EPSRC/AHRC Funding for e-Science Demonstrator Project
Submitted by Ruth on Tue, 2006-05-09 13:46.
:: News
In September 2006 the BVREH was awarded funding by EPSRC/AHRC to build a demonstration 'Virtual Workspace for the Study of Ancient Documents'. The three month project answered a call for 'e-Science demonstrator projects in the arts and humanities' and finished in December 2006. The project constructed a virtual workspace for research involving decipherment and textual analysis of damaged and degraded ancient documents. It forms a step to providing direct access to widely scattered research resources such as dictionaries, corpora of texts and images of original documents and enables the researcher to store, annotate and organize items in a 'personal workspace'. The workspace also supports collaboration by allowing multiple researchers in separate locations to share a common view, working as if sat together, studying the original document.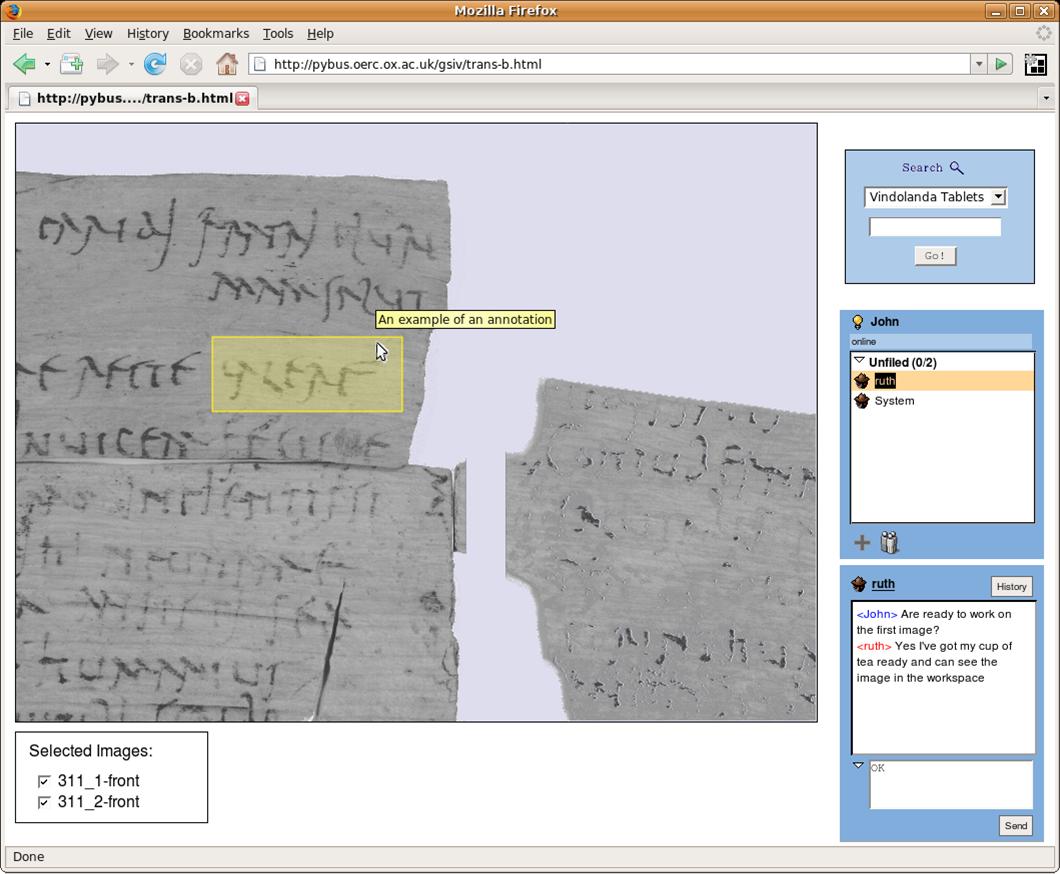 The project delivered a demonstrator enabling a researcher to:
Select, store and organise items in a 'personal workspace'
Add annotations to these items to store personal thoughts and responses
Support collaboration by allowing multiple researchers in separate locations to share a common view of the workspace, in conjunction with real time communication via Chat, VoIP and desktop integration with Access Grid
Allow a collaborator to comment, point/highlight, discuss and annotate the items in the shared workspace
The project demonstrates the incremental advantages of assembling existing ITC resources for research into ancient documents within a virtual workspace, which would also allow researchers to share images and annotations with colleagues and work in real time with remote collaborators.
Achievements:
The VWSAD demonstrator has enabled the BVREH project team to gain comprehensive user requirements for a fully fledged 'Virtual Research Environment for the Study of Documents and Manuscripts'; the project was informed by a series of AHRC-funded workshops ('User Requirements Gathering for the Humanities') conducted before and during the demonstrator grant period.
The user-focused approach to design and development of the project has kept the workspace in line with researcher needs and fostered a great deal of enthusiasm and support
The project has provided confirmation that there is both a need for and interest in a VRE implementation amongst documentary specialists
The VWSAD demonstrator has successfully developed a customised viewing environment to examine and manipulate digitized documents by adapting exisiting Open-Source software and has spent significant time integrating annotation capability into the system
The demonstrator has constructed a working system which provides a framework to add comprehensive communication and collaboration facilities
The Workspace has established that the collaborative study of documents and manuscripts is an area of great mutual interest across humanities research and that such a system could be extended to other disciplines
Development of the workspace has enabled the project to gain a further two years of funding from the Joint Information Systems Committee (JISC) to extend the capabilities of the demonstrator to become a VRE for the Study of Documents and Manuscripts.
Proposal - A Virtual Workspace for the Study of Ancient Documents(Word doc, size 70 KB)
Final Report(Word doc, size 48 KB)